Brochures & Magazines
Read our latest World Traveler Magazine or
click here
for ALL our digital publications.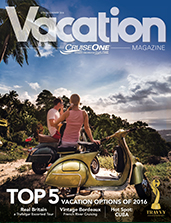 Ask your Vacation Specialist for our FREE Brochure
From Your
Vacation Specialist

Whether this is your first cruise or your first cruise this year, we can help you select the right cruise ship and the right itinerary that meets your needs. At CruiseOne we specialize in cruises. We have excellent prices and a Cruise Satisfaction Guarantee, too, that you won't find anywhere else.